We take pride in our program and the
success of our students

.

Our team of experienced medical professionals is dedicated to the art of beauty, the science of esthetic medicine, and the improvement in patient self-confidence and quality of life. Dermal Fillers, Joint Injection Therapy, and Hormone Pellet Therapy can improve appearance, function, longevity, comfort and confidence to the daily lives of a diverse group of patients.
Located in Central Texas, in Belton directly across from Mary Hardin Baylor University, we bring a much needed clinical injectionist training program to the fastest growing region in Texas. We provide consistent course schedules at competitive prices for the top rated Botox for Business Certification Program, Dermal Filler Certifications and more, to help you and your medical aesthetics practice grow to meet the increasing demands of the area.
With income growth, new housing developments, healthy, fitness based lifestyles, and incredible new careers in tech and energy, Central Texas, Waco, Temple and Austin have an overwhelming demand for these services as local men and women age and continue to strive to enjoy their daily activities without slowing down. No more traveling long distances to receive top training for the same certification courses offered on the East Coast!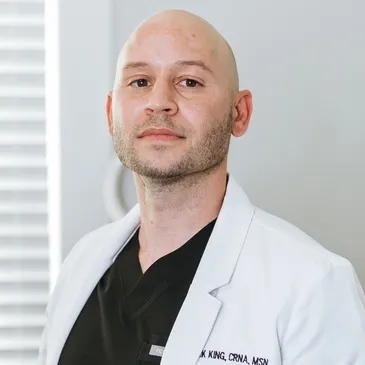 CLIFTON KING, RRT, RN, MSN, CRNA
Dirk King received a Bachelor of Science Degree in Respiratory Care from Texas State University, where he graduated with honors. He then attended nurse anesthesia school at Old Dominion University. He completed his anesthesia residency in Virginia before returning to Texas and founding C&D Medical Aesthetics, PLLC and Injection & Health Institute.
Dirk is very passionate about restoring health, mobility and quality of life through musculoskeletal injections with platelet rich plasma (PRP), platelet rich fibrin (PRF), and corticosteroids.
Dirk believes that aesthetics, interventional pain management, IV therapy, hormone replacement therapy, and medical weight loss can be used as a segue for nurses and other professionals to achieve greater financial freedom and life satisfaction. His goal is to help others on their entrepreneurial journey to achieve the life they deserve.
Testimonials
Read our reviews from students that have used our program to elevate their skills and careers in the medical beauty & rejuvenation fields.
Very Impressed
My work sent me here for a TPI/Joint injection course. I was very impressed by the training, materials & the instructors at Paramount. Dirk was extremely knowledgeable and patient with us. There was never a point where I felt I could not ask questions or seek guidance. The nursing staff was impressive as well. They were highly proficient & approachable. I look forward to taking other courses through Paramount Specialty.
– Alanta C.
take my career to the next level
I decided to take a Botox course through Paramount Specialty Training. Going into this course, I thought I would learn how to simply give Botox to clients, but I learned so much more! Not only did I learn the medical side of administering Botox, but I learned the business behind it. This course taught me how to have a successful business and the steps to take my career to the next level.
– Allison Z.
Amazing Experience
I had an amazing experience when training with paramount. Dirk was very knowledgeable, patient, and well prepared. The hands on training excelled my expectations as well as the open communication Dirk had with me and my collogue.
– Cameron D.
Very Professional
Very professional and knowledgeable classes. Would definitely sign up for more learning opportunities with Dirk! I learned a lot of valuable information that I was able to immediately put into practice.
– Amy H.