Joint & Trigger Point Injection Training
Course Information
Joint, or musculoskeletal injections are a pain management and recovery treatment that involves injecting steroid medication, hyaluronic acid or platelet rich plasma (PRP) from the patient, directly into a trigger point within the joint of a patient's knee, elbow or shoulder.
This form of treatment is popular among athletes, those suffering from arthritic diseases, and anyone recovering from a joint injury. The injection itself is key to the success of the overall trigger point injection therapy. Proper placement of the injectable will ensure the success of the procedure as it continues to provide relief, the comfort of the patient during the procedure.
Our trigger point injection therapy training courses provide written, oral, and clinical training that ensures success in providing this much needed therapy at your practice or Med spa.
Continuing Education Credit (CEU) – Trigger Point & Joint Injection
14 Class A CEUs & 2 pharmacology CEUs awarded by AANA
14 CEUs & 2 pharmacology CEUs awarded by AANP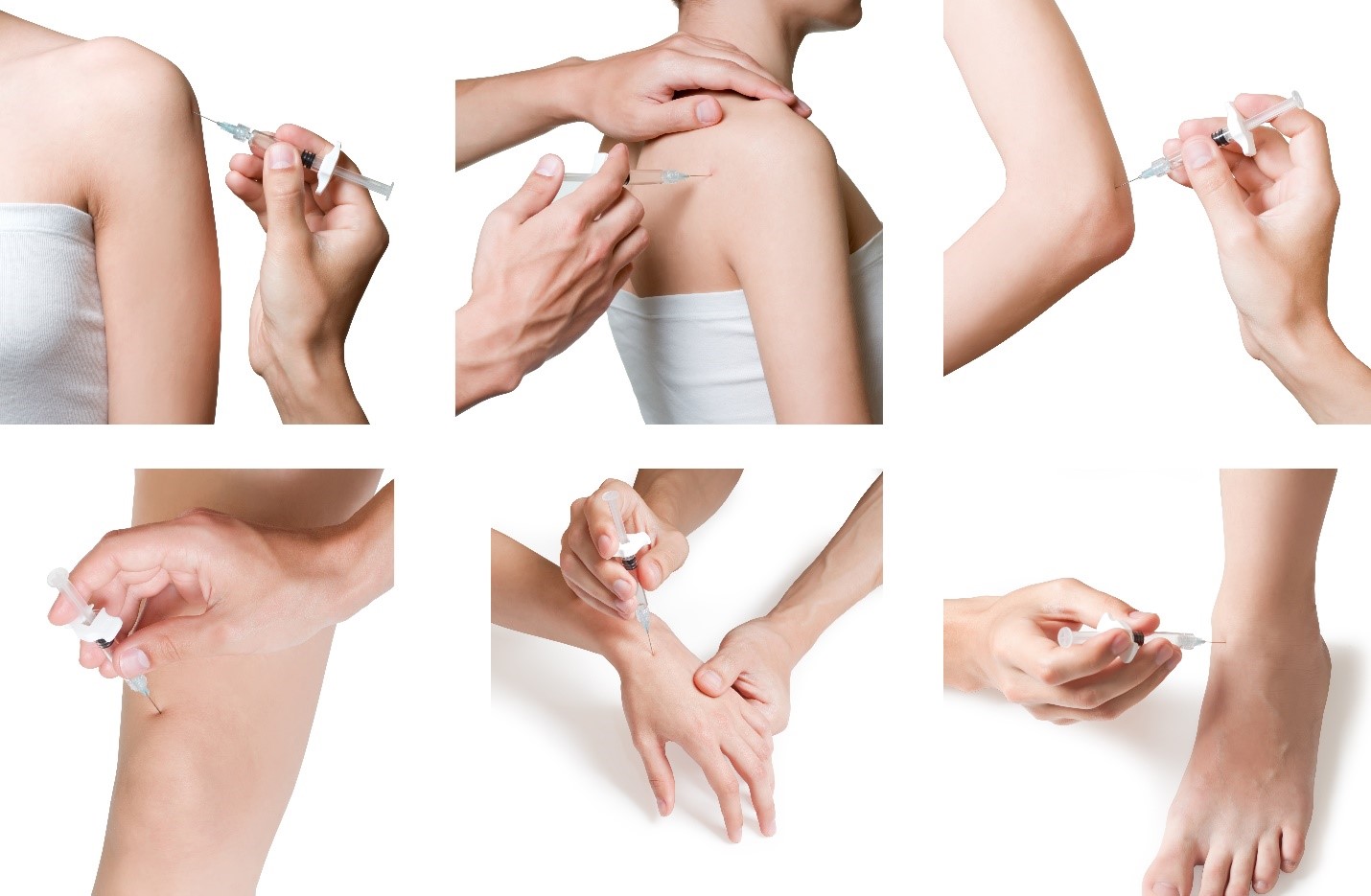 Trigger Point and Joint Injection Objectives
With proper training these interventional pain management procedures are relatively easy to perform and quite lucrative. This course can reinforce previous musculoskeletal pain management techniques or serve as a starting point that allows you to start offering these services once you return to practice.
What type of practices can benefit from the Trigger Point & Joint Injection Course?
Family practice, chiropractic offices, medical spas, and ketamine clinics that also treat chronic joint and musculoskeletal issues.
Ultrasound guided techniques, palpatory methods and anatomical landmarks will be taught so you can safely and accurately treat numerous musculoskeletal issues.
Frontline practices and specialists frequently encounter patients experiencing various levels of disability from these commonplace disorders. Interventional pain training gives you the knowledge to provide minimally-invasive treatment options that can assist your patients to resume more active lifestyles.
Completion of this course will allow you to confidently use Botulinum Toxins, viscosupplementation, corticosteroids, local anesthetics, and Platelet Rich Plasma (PRP) to treat a wide array of ailments.
Botox
Bruxism
Migraines
Occipital Neuralgia
Viscosupplementation (Hyaluronic Acid)
Osteoarthritis of the knee
Platelet Rich Plasma (PRP)
Bruxism
Joint Injections
Trigger points all over the body
Local Anesthetics (Lidocaine & Bupivacaine)
Acute migraines
Trigger points all over the body
Myofascial pain
Corticosteroids Joint Injections
Joints/Bursa/Fascia Covered
Shoulder (glenohumeral joint)
Elbow (tennis elbow/golfers' elbow)
De Quervain's Tenosynovitis
Hip
Greater Trochanteric Bursa
Knee
Ankle
Plantar Fasciitis (soft tissue)
Attend Our Next Class!
Everything you need to provide trigger point & joint injection therapy.
MORE COURSES AND SERVICES FOR YOUR MED SPA PRACTICE!
MEDICAL DIRECTOR ASSISTANCE & COLLABORATIVE PRACTICE AGREEMENT
 Help clients and the community view the facility as experienced, safe and trustworthy.

Complies with and ensures that staff complies with all federal laws in addition to the laws of the state where the spa operates.

Oversees and guarantees the medical quality of a facility.

Ensures

 the policies, systems, and agenda of the facility

.

Supervises the spa's other medical and ancillary staff.
Injection Training
Treatment instruction on aesthetic botulinum toxin indications
Discussion of other non-aesthetic botulinum toxin treatment areas
Diagnosis, treatment planning, dosing and delivery of botulinum neurotoxin
Hands-on injection of live model with one on one trainer assistance
BUSINESS COURSE
Corporation Formation
Compliance & Liability
Insurance Coverage & Requirements
Accounting & Point of Sale Systems
Appointment Management
Marketing
INTEGRATE BOTH THE MEDICAL AND THE SPA SIDE OF YOUR BUSINESS
As medical spas move from being a luxury or trend to becoming a staple in the beauty industry, many practitioners and spa professionals are partnering to create their own unique, profitable businesses. A true medical spa is a seamless merging of the doctor's office and the spa environment and service menu.
MARKET GROWTH FOR MED SPAS THAT INCORPORATE INJECTABLES
The global medical spa market size was valued at USD 14.4 billion in 2021, with an expected annual growth rate of 14.82% from 2022 to 2030. This can be attributed to factors, such as increasing awareness about self-care and anti-aging services.
CONSUMERS OF ALL AGES ARE SEARCHING FOR INJECTABLE SOLUTIONS
According to the American Med Spa Association (AMSA), there is a high demand for minimally invasive treatments, such as non-surgical age reversal through fillers and nuerotoxins, along with dermal sculpting from the hands to the jawline with dermal fillers.
Attend the Next Trigger point and Join Injection Training